Rojak
Serves 4
Adapted from SBS Food

Rojak is a sweet and sour fruit and vegetable salad that is popular in Singapore, Malaysia and Indonesia.

INGREDIENTS
handful of bean sprouts
handful of water spinach, ends trimmed*
4 large fried tofu puffs*
2 Chinese fried dough sticks (youtiao)*
handful of peeled, sliced green mango
handful of peeled, sliced pineapple
handful of peeled, sliced jicama (I also use turnip or radish)
handful of sliced cucumber
½ cup roughly crushed roasted peanuts
1 tsp sesame seeds

FOR THE SAUCE
2 tbsp tamarind pulp*
1 tsp sambal oelek (or more, to taste)*
1 tbsp shrimp paste from a block (belacan), roasted in foil for about 20 minutes*
2 tbsp shrimp paste from a jar**
2–3 tbsp grated palm sugar (can substitute with brown sugar)
1 tbsp Hoisin or sweet sauce
1 tbsp dark soy sauce
juice of half a lemon or lime

*These ingredients can be found in Asian grocery stores.

**This is not belacan. This paste comes in a jar and can be purchased from most Asian grocery stores.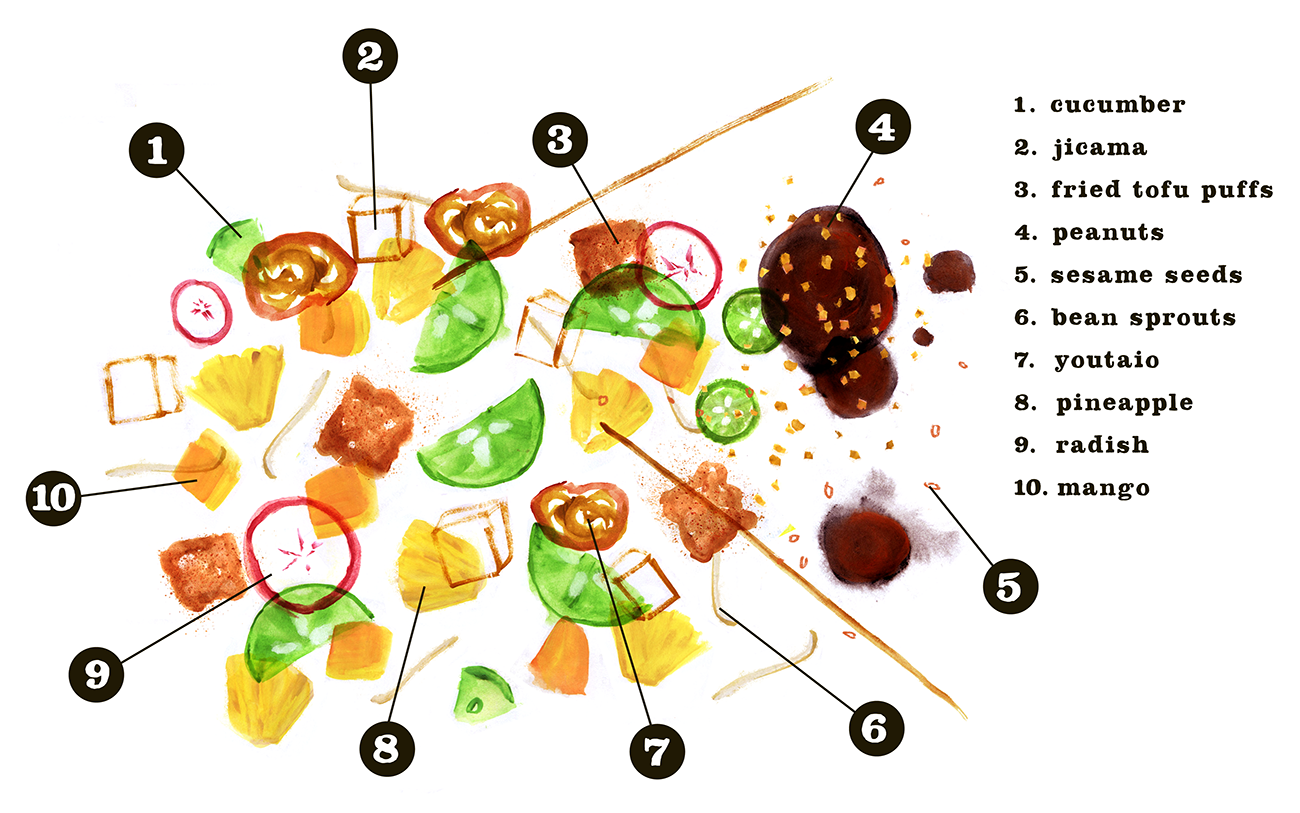 FOR THE SAUCE
Mix together all the sauce ingredients. It should have a thick sauce consistency. Add more palm sugar, chili or sambal oelek if needed.
FOR THE ROJAK SALAD
Blanch the bean sprouts for 10 seconds in boiling water. Remove with a slotted spoon and leave to drain. Repeat with the water spinach. Drain and roughly chop.
Crisp up the tofu puffs and fried dough sticks by leaving in a 350°F oven for a few minutes. Let cool, then cut into 1-inch chunks.
Toss sliced fruit, vegetables, bean sprouts, water spinach, tofu and fried dough sticks together with the prepared sauce. Make sure everything is well coated with the dressing. Sprinkle with crushed peanuts and sesame seeds.
Instead of using a fork, pierce ingredients with skewers or toothpicks.